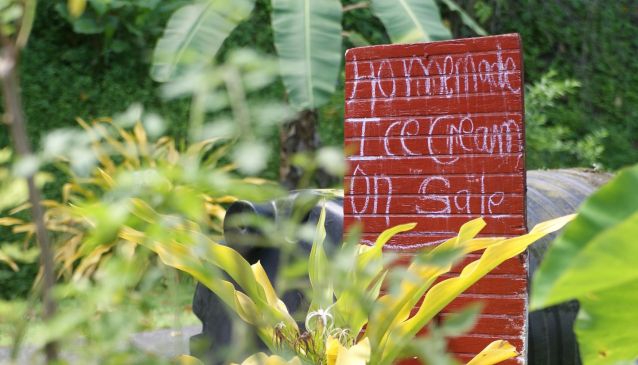 Off the Eaten Track
Food & Drink
When soursop-tamarind ice cream calls we return to Shurland's.
Look to your left, just after the "Welcome to Bloody Bay" sign (which has most of its letters peeled off except for B-O-O-B). If they have been set out that day, you will see a few plastic tables and chairs in the grass against a panoramic backdrop of sky and blue-green ocean. You may also notice a small sign just after the B-O-O-B landmark. Placed on the ground, leaning against a small wooden structure, it announces: SHURLAND'S NATURE PARK and promises bird-watching, hiking and waterfalls.
A few feet on is the home of nature guide and creole chef, Shurland. Her two-storey wooden abode sits at the edge of the rainforest overlooking Bloody Bay. Those fortunate enough to stop will most likely do so out of curiosity about the outdoor tables or be drawn by the handwritten chalk sign advertising HOMEMADE ICE CREAM.
On this particular day, I am with my visiting South African UK-based friend, H, heading for Bloody Bay. We have already driven through the Main Ridge Forest Reserve, where one of Tobago's more popular springs can be found. Bring large empty plastic bottles when coming on this journey so that you too can collect some of this sweet, pure liquid. A few feet after the green "Spring Trail" sign on the left is a concrete culvert. There the spring water streams from a metal spout in the wall. Don't be alarmed that this is over a drain. The water from the spout is clean and is collected for drinking by many people daily.
Anyway, back to Shurland's having tasted her Homemade Ice Cream two days before, with another friend, I pull over so that H can also savour the not-to-be-missed delicacy. Vibrant orange curtains billow in the sun. Shurland's smile and warm voice greet us as she churns an old wooden hand-operated ice cream maker. Her ice cream is an everyday treat available in an exciting variety of tropical flavours soursop, tamarind, mango, dasheen, coconut, cassava, peanut, rum and raisin, banana (and maybe more that she forgot to list for us). Today she is making a soursop and tamarind combo and promises that by the time we return from the beach it will be ready for us.
Bloody Bay is a lot more gentle and pleasant than its name sounds. The placid blue-green of the water welcomes us as we descend the hill to the pristine beach facility. Life guards, security, male/female changing rooms ($1TT per entry) and a bar/restaurant selling snacks and drinks make this uncrowded, safe beach a comfortable option for spending a few hours. On a good day, the river is full, clear and green. It is great for freshwater swimming, but be careful of the sand where the river meets the ocean. On occasion it can be like quicksand and pull your legs in.
The shores of Bloody Bay are rich with diverse stones and driftwood. Meditative hours can be spent sifting through these natural treasures. Bring a large bag for collection if you are an avid beachcomber.
With the exception of a few soft, mossy rocks, the ocean floor is silky and even, making it possible to walk out comfortably, without stubbing your toes or falling into unexpected dips. H and I spend some time suspended in the gently undulating water. In the absence of waves, it is an effortless, relaxing experience.
Soursop-tamarind ice cream calls and we return to Shurland's. Her daughter tells us that she has just left to give a nature tour, and asks which size of ice cream we want: small, medium, large, extra large. We choose small, but from the first taste wish we had each ordered extra large.
Cold, melt-in-your-mouth, subtle soursop tones play on our tastebuds, lingering with a just-right sweetness. "This is some of the best ice cream I have ever had!" H says. In between "Mmmmms", I agree. This ice cream is a must-have on the drive to/from Bloody Bay and after a hike with Shurland through the rainforest to the waterfall.
Shurland's home restaurant is open for breakfast, lunch and dinner. Please make reservations a day before by calling 294-3740 (cellular) or 660-7883 (home).
Bon appetit.