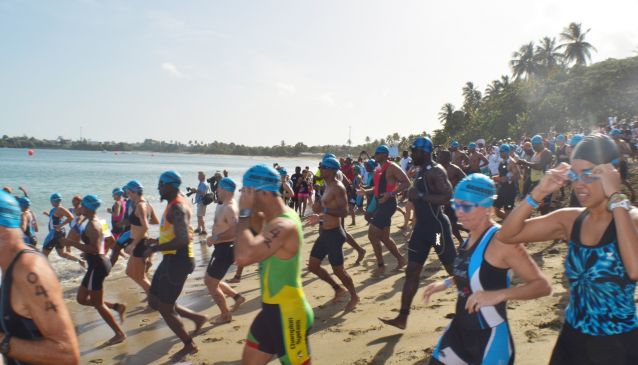 Sport Tourism
Editorial
Sport has an uncanny effect on the mind and body which can run the full range of human emotions.
Picture this. It's the dead of winter, you're working your nine to five and your mind wanders to your upcoming vacation to Trinidad and Tobago. You imagine yourself in the warm weather, enjoying the flora and fauna and sampling local cuisine and culture. You project your mind to the vibrant nightlife, and can almost taste that cold beer on the tip of your tongue. Sound good so far?
Now, think about the passion and joy you experience when following the performances of your favorite teams and athletes. Whether it be Arsenal, The England Cricket Team, The New England Patriots or Trinidad and Tobago's Andrew Lewis, sports has this uncanny effect on the mind and body which can take you through the full range of emotions. It becomes almost like an addiction, that can't be denied.
Maybe you prefer to participate than watch. The insatiable hunger to compete and test the limits of the human body is something that must be fed regularly. You want these challenges frequently, and in different environments because then, and only then would you feel the sense of accomplishment and personal satisfaction that you desire.
Now, pull all of these emotions together, and you will get a faint idea of the potential Sport Tourism has as a means of attracting visitors to a destination. Depending on your perspective Sport Tourism or Tourism through sport is definitely a viable and powerful mechanism in which to promote a country. What is excellent for Trindad and Tobago, is the fact that historically our athletes have performed with distinction on the global stage.
Let's examine this idea a bit more. In the traditional sense, tourism involves the marketing and promotion of a destination with the sole intention of attracting visitors to that destination to spend their hard earned dollars. In the Caribbean context, there is great opportunity to receive direct foreign investment from key markets such as United States, Europe and Scandinavia. Who can we attract? Strategy will suggest that we go after a host of segments which can range from members of the Caribbean diaspora, to athletes and fans. Trinidad and Tobago has been very fortunate as many of our athletes and teams have proved to be the perfect advertisement for the country as both a sporting and tourist destination.
Cricketer Brian Lara is, and still remains, an icon in the eyes of many. Dwight Yorke, during his heyday at Manchester United, exuded that universal appeal due to his on field performances. Every time Dwight scores; the commentator would say, 'The striker from Trinidad and Tobago' along with the flurry of superlatives to describe his most recent flash of brilliance. That mention and promotion is invaluable mileage for a destination.
Keshorn Walcott's gold medal performance at the London 2012 Olympics will have done well to further enhance our reputation. His magnificent 84.58m throw on that faithful day did more than just secure him an Olympic Gold medal and his place in history. It also sparked the curiosity of millions of individuals worldwide who were intrigued to learn more about this 19 year old phenom from Trinidad and Tobago.
I don't have the figures, but I am almost certain that the search 'Trinidad and Tobago' would have been extremely high on search engines such as Google and social media platforms like Twitter. The key for us as a destination will be to convert that interest, into an actual sale and get the tourists to visit our shores.
The promotion on the global stage, is but only one aspect of the strategy. It is imperative for the local administrators to host events that can be used to attract competitors and spectators to the island. In recent times events such as the Njisane Phillip 3 Day Cycling festival brought some of the premier cyclists from across the globe to compete over three days. The event did very well to integrate competitive sport and local culture with many of the athletes vowing to return to the island, especially to experience our Carnival.
Trinidad & Tobago has merely scratched the surface but, in my opinion, is on the cusp of becoming a leader in the niche in the Caribbean.