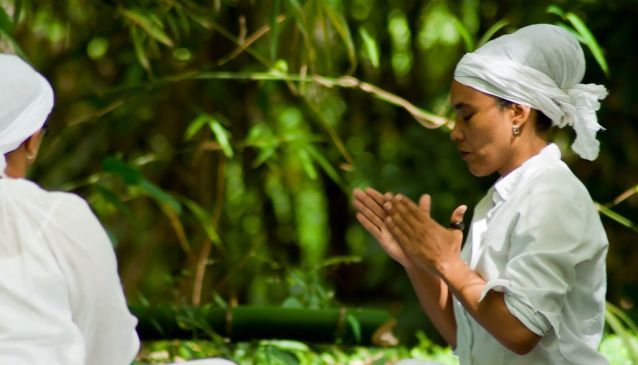 Inner and Outer Adventures
Inspiration
The inner journey of self-discovery can be as vast and as exciting as the outer journey.
People travel to wonder at the height of the mountains, at the huge waves of the seas, at the long course of the rivers, at the vast compass of the ocean, at the circular motion of the stars, and yet they pass by themselves without wondering. - St. Augustine
The inner journey of self-discovery can be as vast and as exciting as (or maybe even more so than) the outer journey of traversing new geographical landscapes. In Tobago it is possible to experience both - outer adventure through activities like hiking, wind surfing, golfing and scuba diving, and inner exploration through various yogic activities available on the island.
THE HEALING RING OF TANTRA
Fresh sea breeze, a panoramic ocean view, sunset, stars, moon, good company, positive vibrations, healthy food and drink and sometimes the company of grazing horses make the experience of this outdoor meditation unique and memorable.
Once a month, yoga practitioners and friends gather on Buccoo Cliff (grazing grounds for the herd of Healing with Horses) at 6:00 p.m. to participate in The Healing Ring of Tantra facilitated by Thou Art Yoga. This powerful Kundalini Yoga healing meditation is to be practiced on the new moon, eleven days after and/or the full moon of any month. It requires at least eleven people holding hands in an unbroken circle, using specific call and response chants to generate healing vibrations for those in the circle and at a distance. Thus far, gatherings have taken place on the new moon - a time of beginnings.
All are welcome to attend free of charge, although each participant is asked to bring an item of food or drink as an energy exchange. The collective "feast" is enjoyed as a moonlight picnic after the meditation. The entire event lasts one hour on average.
Wear loose, comfortable clothing and bring a yoga mat or cushion to pad you from the small stones on the cliff. Absolute beginners are welcome and, if traveling alone, an event like this is ideal for meeting friendly, conscious, open-minded, nature-loving people.
YOGA CLASSES
On a rooftop under the full moon, on a cliff at sunset, poolside under a canopy of stars, early morning in bamboo groves near a river or in front of your computer through Skype. Thou Art Yoga's Kundalini Yoga classes are always a one-of-a-kind experience, whether outdoors or indoors.
While the more outdoorsy 'yoga adventure' sessions can happen at any time and are announced by email or on Facebook, those traveling to Tobago seeking a regular yoga class can be sure of Thou Art Yoga's Friday evening sessions from 6:00 - 7:30 p.m. at Kariwak Holistic Haven in Crown Point.
These vibrant Kundalini Yoga sessions consist of a kriya (specific set of exercises designed for a particular effect), a period of long deep relaxation (usually ten minutes, often accompanied by a live guitar serenade) and a meditation. Students are local and international and include absolute beginners and those who have been practicing for a longer time. The venue, Kariwak's open-sided hexagonal-shaped, wooden-floor ajoupa is so ideally suited to yoga sessions that simply being there even when no claases are on will give you the inner peace you seek.
For those inclined to explore other forms of yoga, Kariwak also offers morning and evening classes in Hatha, Vinyasa, Iyengar and Yin and a Thursday evening open Meditation Practice.
While it is possible to attend a group yoga or meditation session, also consider the benefits of personalized sessions. A private session for a small group of your friends or family can be an uplifting bonding experience. An early evening couple's session can give you and yours a "date" with a difference. One-on-one sessions or retreats (just you and the instructor) are ideal if you want personalized attention or are a beginner who prefers to learn privately before joining others.
In the care of an imaginative and knowledgeable instructor, the kind of yoga experience you dream of having on your travels can be created. Your body, mind and spirit will relish this time together.