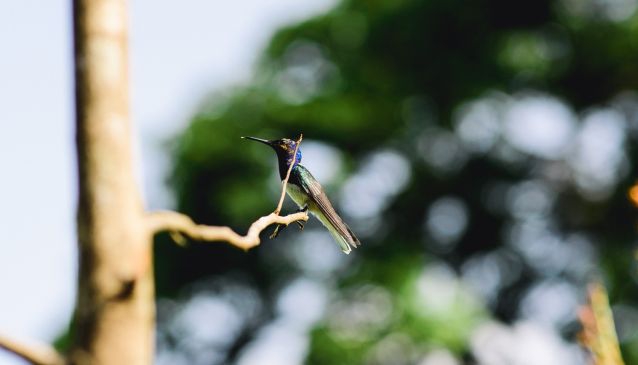 Leave Nothing but Footprints
Adventure
This is a place where worries seem to fade against the majestic setting of the day's sun.
Does your backyard look like this? If it does then consider yourself truly blessed. However, if it doesn't, then you should probably set aside a day with your favorite nature loving friends to visit one of the Caribbean's first established nature centre.
The Asa Wright Nature Centre (AWNC) is hidden at 1,200 feet in the unspoiled mountainous Northern valleys of Arima and Aripo and is just a mere hour and thirty minute drive from the capital city Port of Spain along the Churchill Roosevelt Highway.
The landscape is breathtaking and makes for a truly remarkable photo opportunity even with the most basic of cameras. You can capture the natural splendor of colorful flowers like the chaconia contrasted against the many shades of green. Trust me you won't be able to resist the temptation to stop.
Continue along your journey, relax and unwind as you gaze at the dense rainforest of the Northern Range you'll may even catch a glimpse of a few randomly dispersed natural springs or even an elusive agouti crossing the road ahead. The fresh and crisp mountain air billows through towering bamboo shoots and caresses your face. One can't help but day dream about times past, a simpler time. Paradise!
A few more precarious twists and turns along the narrow road, which provides an added thrill, eventually you'll see the Asa Wright Nature Centre sign and directions to the car park and reception area.
This magical and pristine former cocoa-coffee-citrus plantation welcomes day visitors during the hours of 9 am and 5 pm. Nature in its entire splendor is truly timeless and with nearly 1500 acres of forested land, natural vegetation, educational activities and lodging, I guarantee you a day visit just isn't going to be enough. Thankfully you also have the option of staying for a weekend in this rainforest haven.
Regularly scheduled guided walks are done at 10:30 am and 1:30 pm daily by knowledgeable and friendly guides – ask for Mukesh, he has over 20 years of experience in environmental conservation and is quite a colorful character. Tours must be booked in advance at no additional cost. However their is an entry fee of $30TT for adults and $10TT for children.
Asa Wright's rainforest trails are home to a variety of wildlife, including diverse species of birds, mammals, reptiles and butterflies, living as harmoniously as the food chain will permit. Witness the very territorial and pronounced mating call of the Tanager bird; or to share a window sill with various species of Hummingbirds as they dance for their sweet supper. How about trekking alongside an over 20 year old ant colony? Where the slightest disturbance to the nest brings out proud sets of ant soldiers with razor sharp pinchers ready to protect their Queen? This is nature at its finest, raw and untouched.
All you'll need to experience such unpolluted bliss are comfortable walking shoes, a change of clothes for wading in the Clear Water pool just five minutes from the main building, a camera, a considerate amount of insect repellent and an open mind ready to be awed. There are even walking sticks available if you really want to "get into character." The centre only requests that you kill nothing but time, take nothing but pictures, leave nothing but footprints. Fair enough!
There is no need to worry about meals either as dishes are available at the centre for even the most discerning of pallets. Guests have a choice of Buffet Lunch in the Dining Room or the Sandwich Menu available on the Verandah. From tasty chicken sandwiches to burgers all made with fresh country style homemade bread baked daily with ingredients grown on site.
Once you've had your bellyful it's onto the penultimate bit of relaxation in the placid Clearwater Pool and waterfall. Those change of clothes mentioned previously, really come in handy at this point before you make your way back up to the main house.
This is a place where worries seem to fade against the majestic setting of the day's sun and the brilliance of surrounding flora and fauna. As you receive the pleasant parting words from June, "Thanks for coming and do have a safe journey home," you realize that this is a place where you certainly want to return.
It's clear to see that Asa Wright Nature Centre is a naturalist's lodge, bird watcher's haven and a lover's romantic getaway. The perfect pit stop in a restless soul's quest for serenity. As the hills fade into the distance one cant help but think, "Oh what I'd do for a backyard such as this"!